---
Steve Gilliard, 1964-2007
It is with tremendous sadness that we must convey the news that Steve Gilliard, editor and publisher of The News Blog, passed away June 2, 2007. He was 42.
To those who have come to trust The News Blog and its insightful, brash and unapologetic editorial tone, we have Steve to thank from the bottom of our hearts. Steve helped lead many discussions that mattered to all of us, and he tackled subjects and interest categories where others feared to tread.
Please keep Steve's friends and family in your thoughts and prayers.
Steve meant so much to us.
We will miss him terribly.
photo by lindsay beyerstein
---
skippy the bush kangaroo: "nice week in the stock market"


ouch

A big THANKS to skippy for this great cross-post - THANKS SKIPPY!


when we talk about world-wide economics, of course we go to the casper, wyoming star-tribune:


stocks stumbled in the final session of a tumultuous week as the yen rallied against the dollar and concerns about the u.s. economy still dogged investors after tuesday's huge drop. the dow jones industrials logged their worst weekly performance in more than four years.

the dow on friday, as it had the day before, poked tentatively into positive territory friday before retreating as the yen furthered its gains and investors failed to shake their unease.

larger economic concerns such as the ascendent yen have dominated wall street for much of the week after tuesday's worldwide selloff that sent the dow down 416 points and rattled investor confidence about the state of the u.s. economy.


and nobody's too optimistic about next week, either. bbc news:


global stock markets face an uncertain week after a slump in china and fears of an economic slowdown saw the biggest sell-off in more than four years.

by close of trading on friday, indexes had tumbled across the us, europe and asia - the dow jones fell 4.2%, and the ftse 100 lost £80bn, or 5%, in value.

investors blamed factors as varied as a new tax in china and the us mortgage market for the decision to dump stocks.

volatility probably will continue as riskier assets are sold, analysts said.

"our short-term scenario is that the markets will continue to show weakness," said james chua of phillip capital management.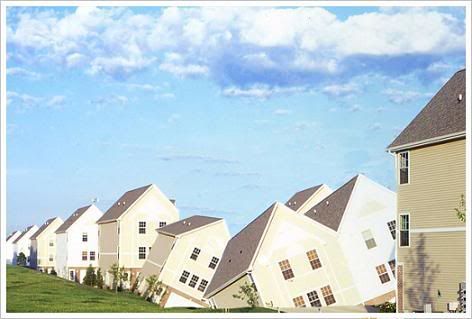 a big part of the reason, at least here in the states, is the total meltdown of the subprime mortgage market and the collapse of the real estate bubble. we point to little things like a major sub-prime lender delaying its annual report with the sec. reuters:


new century financial corp. (new.n: quote, profile , research), one of the largest u.s. subprime lenders, on thursday said it is delaying the filing of its annual report with the u.s. securities and exchange commission.

the irvine, california-based company said it expects on friday to file with the agency a formal notification of its inability to file.

on feb. 7, new century surprised investors by saying it expected to report a loss for the fourth quarter of 2006, and would restate earnings for the prior three quarters lower.


other signs of an ailing market are seen. san diego north county times:


the nation's troubled housing and mortgage markets will decline even further before they rebound, a prominent mortgage executive told a gathering of real estate agents at cal state san marcos on friday.

robert a. camerota, sr., senior vice president and manager of gmac's mortgage group in coast mesa, sketched a bleak forecast for the housing industry: falling home prices, increased foreclosures, more failed mortgage companies and increased revelations of mortgage fraud.

"we're all going to be struggling, struggling more than we are today," he said. "we're headed halfway down the mountain, and we've got a ways to go."


bloomberg reports that troubles in the subprime mortgage market (the "creative" mortgages made to those with less than stellar credit) very probably will spread to the next level up, the alt-a prime market:


problems in the subprime loan market have been front-page news for weeks, with a total of 27 mortgage lenders going belly up since december, according to the mortgage lender implode-o-meter, a web site that tracks cases of sudden death syndrome among lenders. (the figure includes subsidiaries of lenders as well.)

for a while, rising delinquency rates, plunging share prices and increased risk perceptions about securitized loans were confined to the subprime market. in other words, it was a niche sector of the loan market (borrowers with a checkered credit history) affecting a niche sector (housing) of the economy.

gradually the notion that the bust part of the housing boom/bust cycle might not be quite so benign started to manifest itself elsewhere…

it should come as no surprise that the distress is spreading beyond the subprime market to "alt-a" loans, according to andy laperriere, managing director at the isi group in washington.

"the risky characteristics of alt-a loans are eerily similar to subprime loans and are likely to experience larger- than-expected losses," laperriere writes in a feb. 26 report to clients.

alt-a loans (alt is short for alternative) are made to borrowers with a prime credit rating who for some reason don't want to provide full documentation on income or assets. (alt-a loans are not to be confused with alt-b, which are made to subprime borrowers who are willing to document their financials.)

data from first americanloanperformance, a mortgage research firm in san francisco, bear out laperriere's suspicions. the more recent alt-a adjustable rate mortgages — those originated in the 12 months through december — are performing worse than loans of similar age in recent years. the 3.1 percent delinquency rate for the 12 months ended december is the worst since 2000, according to mark carrington, director of analytical sales and support at the company.


happy trading!

- posted by Skippy the Bush Kangaroo

Labels: mortgages, stock market